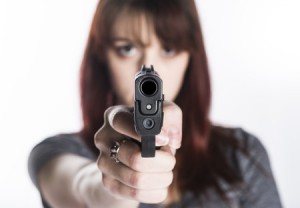 Possession of a firearm by a delinquent minor, even years after being adjudicated as a juvenile delinquent, can be prosecuted as a serious crime in Muskogee, Oklahoma.
What is a Delinquent Minor?
In Oklahoma, a person under the age of 18 is considered a minor. If a minor commits a crime in Oklahoma, the minor can be charged in a number of different ways: as a youthful offender, as a juvenile delinquent, or as an adult.
If a minor is adjudicated as a juvenile delinquent, the matter charged is usually relatively minor. The minor then may spend some time in detention, and then the records are sealed.
However, if the matter for which the juvenile was charged would have been a felony if committed by an adult, then the later possession, within 10 years of the original adjudication, of a firearm by that juvenile is unlawful. (Okla. Stat. tit. 21 § 1283)
The adjudicated juvenile cannot have any pistol, imitation or homemade pistol, altered air or toy pistol, machine gun, sawed-off shotgun or rifle, or any other dangerous or deadly firearm within his or her possession, custody, control, within a vehicle the person is riding in, or within that person's home. In these circumstances, a person is prohibited from possession of a firearm by a delinquent minor.
Because it is illegal for the adjudicated delinquent to have a firearm anywhere within his or her immediate possession, custody, or control, there are situations that he or she must be careful of.
If you are riding with your friends in a car and one of them is carrying a gun, you may end up in trouble if the car is searched and the gun found. This is true even if that friend carried the gun lawfully, and even if you had no knowledge of his or her possession of the firearm.
Penalty for Possession of a Firearm by a Delinquent
In Oklahoma, the penalty for possession of a firearm by a delinquent minor escalates with each conviction. A first conviction for illegal possession of a firearm will subject you to a fine of between $100 and $250.
A second or subsequent conviction will subject you to a fine from $250 to $500 and jail time from 30 days to six months. (Okla. Stat. tit. 21 § 1276)
Free Consultation: Muskogee Criminal Defense Lawyer
If you are being investigated or have already been charged with possession of a firearm by a delinquent minor in Oklahoma, contact an experienced Muskogee criminal defense lawyer as soon as possible to protect your legal rights.
Call the Wirth Law Office-Muskogee today at 918-913-0725, or toll-free at 1-888-447-7262 [Wirth Law].