Slip and Fall Accidents: Most Common ER Visit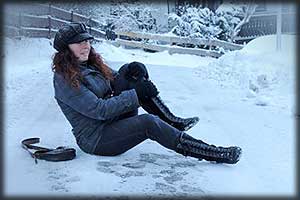 If you've been hurt in a slip and fall accident in Muskogee County, you maybe entitled to compensation because of someone else's negligence. It can be a painful and lengthy process battling to recover from an accident, that's why you need to know your rights by contacting a Muskogee slip and fall attorney at the Wirth Law Office – Muskogee.
The latest accident statistics show that more people visit the emergency room every year for falls than for any other injury. That means 8 million Americans lives are turned upside down after a slip and fall accident. If you've been hurt on someone else's property, that you deserve to get your questions answered by a Muskogee slip and fall attorney.
Property Owner Liability
When you set foot outside of your house or apartment, the many locations that you frequent have a duty to exercise reasonable care. When that property owner or business owner fails in that duty and you are hurt, you could be entitled to compensation. Quite often a business owner may have an employee put out a yellow "slippery when wet" sign on a floor but that does not always mean if someone is hurt that they are "off-the-hook." That's why discussing the details of your accident with Muskogee slip and fall attorney can help you determine your legal possibilities.
It's important to point out that back in 2004 Oklahoma tort reform provides property owners a defense against premise liability cases when it comes to ordinary negligence when the plaintiff was not authorized to be on the property. For those that are authorized or "invited" socially, for business, and professional reasons the door for possibly recovery maybe open.
Duty To Warn You
It's the duty of the property owner or one who allows social guests onto their property has a duty to warn guests of dangers they can't easily see. Therefore, where gross negligence can be proven in court  that in-turn resulted in injury to a person or a child, the injured party may be entitled to compensation. If there's anything on the property that could cause injury to a visitor, then the property own must warn you ahead of time. If they don't warn you and you're hurt….you could have grounds to be compensated.
Free Consultation with Muskogee Slip and Fall Attorney
For a free consultation with an experienced Muskogee personal injury lawyer who handles "slip and fall" cases call the Wirth Law Office today at (918) 913-0725, or call toll-free at 1-(888) 947-8452 [Wirth Law]. If you prefer, you can use the box in the upper right-hand corner of this page to send a brief question or message.